Skin care with apricot kernel oil
Energizing power from nature.
Botanical oils give your natural beauty a real boost because they contain all the vital compounds of the plant: totally clean, with nothing added. These oils show off their multitude of talents as ingredients in our face and body care products: easily absorbed by the skin, they are able to soothe, renew, protect or fortify – depending on the plant and formulation. Pure apricot kernel oil gives your skin a natural freshness and a beautiful glow.
What is apricot kernel oil?
With its velvety skin, seductive fragrance and sweet, succulent flesh – if summer were a fruit, it would probably be an apricot. It's no wonder that apricot kernel oil also has a lot to offer. Apricot kernel oil – also known simply as apricot oil – is pressed from the seed, or kernel, of the apricot. The precious oil acts like a booster for dry, dull or mature skin, lending a natural glow and healthy freshness. How, exactly? Thanks to a unique and valuable composition that makes apricot a real star in the world of oils.
What does apricot kernel oil contain that is good for the skin?
Apricot kernel oil is bursting with benefits. Its unique and precious composition makes it a real multitasker for your skin. The oil is full of fatty acids – especially linoleic acid and oleic acid, which help keep the skin beautifully supple and elastic. The high proportion of oleic acid, an unsaturated omega-9 fatty acid, makes it particularly effective. Other components include vitamins E and A, niacinamide – a form of vitamin B3 – and carotene. Cold-pressed apricot kernel oil is obtained using a particularly gentle method, so you can be sure that all its powerful components reach your skin.
What effect does apricot kernel oil have on the skin?
Apricot kernel oil protects and soothes the skin. It is also very light and absorbs quickly without leaving an oily film. The unsaturated fatty acids help your skin retain more moisture. Linoleic acid promotes the maintainance of your skin's barrier and leaves your complexion looking fresher – a secret weapon in combatting dull, dry skin. Vitamins E and A are powerful antioxidants and support its defenses against free radicals. This is why apricot kernel oil is found in many products for mature, demanding skin. Even if you tend to have blemished skin, this oil is the one for you.
How is it produced?
This oil is extracted from the seed, or kernel, of the apricot. First, the fruits are gently dried and shelled to extract the kernels. After these have also been dried, they can be opened, exposing a stony nut that looks a bit like an almond. In fact, it even smells faintly of almonds. The valuable, light-yellow apricot kernel oil is extracted from this nut by mechanical pressing. While some oils are extracted by using chemicals, this method is never employed by Dr. Hauschka, because we believe that the more gentle the method, the more precious natural components are retained.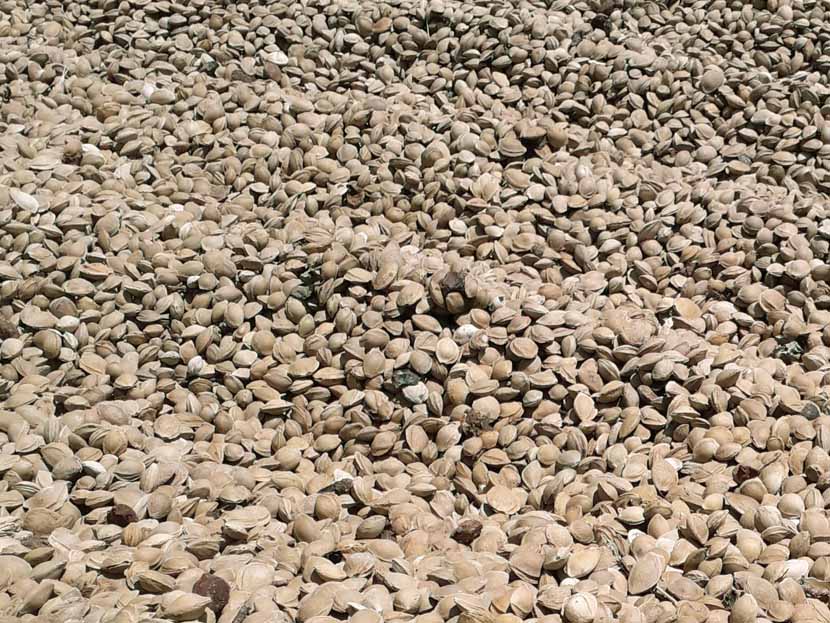 The apricot kernel oil used by Dr. Hauschka.
We want only the best for our certified natural skin care: premium natural ingredients, preferably organic. This includes our apricot kernel oil. One place we source our apricot kernels is the Hunza Valley in Pakistan – one of the most remote mountain regions on Earth. Here, more than 6,000 small farms have joined forces to sell their dried fruits and nuts to the Mountain Fruit Company (MFC), which then handles distribution. These farms are all fair trade certified, and nearly 1,000 are also certified organic. The MFC helps farmers make better use of their crops and thus increase their income. They also provide advice on organic farming and help strengthen the role of women in Pakistan.
The apricot kernels are then gently cold-pressed and filtered in the oil mill of our subsidiary Naturamus. This process requires a lot of care and attention, particularly when setting-up the machines: the feed rate, temperature and outflow of the oil must be precisely calculated. The humidity and condition of the oilseeds must also be considered. Finally, the oil miller sets a rotating steel screw in motion that compresses the oil seeds until the cells break open and release the precious apricot kernel oil.
Apricot kernel oil in Dr. Hauschka products.
We love apricots. And we love apricot kernel oil. That's why you will find it in many of our products. In our Apricot Day Cream it conjures up a complexion as velvety soft and rosy as the fruit itself – ideal for dry, dull skin. In our Revitalizing Day Lotion for dehydrated, devitalized skin, it enlivens the natural oil and moisture balance of your skin and gives it a fresh and vibrant beauty. and in Dr. Hauschka Clarifying Day Oil it brings balance to oily skin and helps reduce the appearance of blemishes. Thanks to its ability to effectively smooth blemishes, apricot kernel oil is also found in our concealers. It leaves your complexion not only looking more even, but with a nourished, natural appearance.