Face Powder
Certified natural mineral pigments to mattify, bronze or color-correct.
It only takes a little to make a big difference: powder can remove an oily sheen or even out your skin tone, contour your face and help your make-up last longer – while still letting your skin breathe.
Show more
No results were found for the filter!
Quick View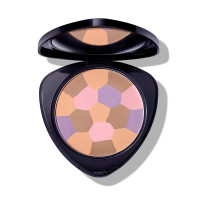 Colour Correcting Powder
lends the skin an even appearance
improves complexion
mineral shades to perfect and even out the complexion
in 3 different shades
Quick View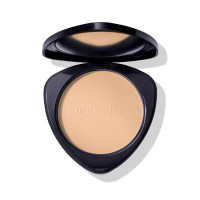 Compact Powder
naturally reduces shine
evens the complexion
ideal for touch-ups
in 1 natural skin tone
Face powders: loose, compact and more from Dr. Hauschka.
Every make-up bag should contain a face powder – perhaps even several. Our translucent Loose Powder sits delicately on your skin, mattifying your complexion and setting your make-up. The lightly tinted Compact Powder evens out imperfections, brightens your make-up and is great for touch-ups on the go. Then there's the Dr. Hauschka Bronzing Powder, which adds a sun-kissed radiance and accentuates your contours. And last but not least, we have our Colour Correcting Powder. This powder has three variants, each containing multiple shades that blend together to even out any complexion – including yours.
Apply powder like an expert.
The Loose Powder and Compact Powder can be applied either with a powder puff or our Powder Brush. For contouring and creating accents, our tulip-shaped Blusher Brush is the perfect tool for the job. All Dr. Hauschka make-up brushes are easy to hold, easy to clean, durable and vegan.
More than mineral powders: genuine certified natural cosmetics.
With Dr. Hauschka powders, you can be sure that no synthetic substances are being deposited on your skin. We rely instead on silk powder, tapioca starch, silica, mica and nurturing plant extracts. You can view all the carefully selected ingredients for each product – and even see its organic content percentage thanks to NATRUE, an international quality seal for certified natural cosmetics that all our products bear.
Dr. Hauschka face powder: powders that are good for your skin.
At Dr. Hauschka, we don't just leave out ingredients that the skin doesn't need; our formulations always contain nurturing plant extracts that are actively good for your skin. In our powders, these include anthyllis, black tea and, most importantly, witch hazel. Why? The leaves and bark of the witch hazel plant are rich in skin-fortifying ingredients, have a toning effect and refine the skin's appearance. Dr. Hauschka powders leave your skin feeling velvety soft without drying it out. They are also suitable for dry skin.