A silicone-free conditioner: Dr. Hauschka Conditioner.
After washing, your hair is ready for nurturing protection that promotes silkiness and shine. Dr. Hauschka silicone-free Conditioner takes care of this step: it combines high-quality plant oils with natural proteins and revitalizing, nurturing plant extracts. In addition, apple cider vinegar helps get rid of mineral deposits and smooth the surface of hair, making it shine. These nurturing aspects are echoed in the scent of the Conditioner, infused with vanilla, coconut and white blossoms. Our silicone-free Conditioner is suitable for all hair types, especially long, damaged, dry or dull hair and for split ends. Full of tried-and tested nurturing plants, chickpea extract and coconut oil enrich the formula. The tube gains sustainability points with its high percentage of recycled material.


Find out more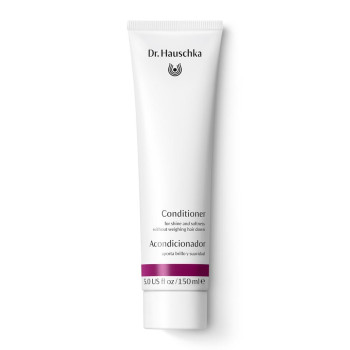 For questions regarding Dr. Hauschka Skin Care products and their usage
Phone 800.247.9907
9am-noon and 1pm-4:30pm Eastern Standard Time, Monday through Friday.