The Complete Body Care Collection
Settle the mind & comfort the soul all season long
Selfcare ritual: Dr. Hauschka Complete Body Care Collection
The distinct formulation of our Lemon Lemongrass Vitalizing Body Milk, Lavender Sandalwood Calming Body Cream, Rose Nurturing Body Cream, Almond Soothing Body Cream makes for a very special holiday treat. Have an at-home spa moment with these botanical-rich body moisturizers for silky smooth skin that noticeably retains its moisture for longer. We recommend using daily, whenever you need a selfcare moment.
Find out more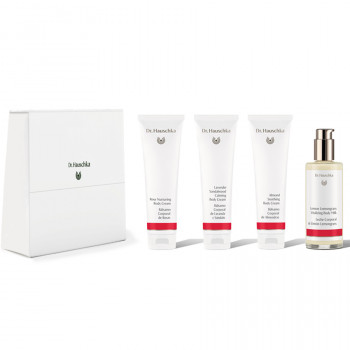 Dr. Hauschka The Complete Body Care Collection
plus tax, free delivery
Content 1 each
For questions regarding Dr. Hauschka Skin Care products and their usage
Phone 800.247.9907
9am-noon and 1pm-4:30pm Eastern Standard Time, Monday through Friday.